Natural Remedies For Dry Skin
Mix In Your Formulae For
Your Very Own Prescriptives Skin Care.
More About The
Rose And Ylang-Ylang Moisturiser.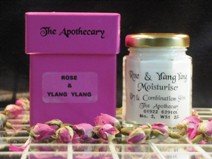 This the best moisturizer for dry skin, or I should say just the dry side of normal or combination skin...if that makes sense.
We use the rose absolute which is the most precious and most potent of all the rose essential oils.
Out of all the natural remedies for dry skin, rose is undoubtedly my favourite oil, because it works as such a rich, succulent skin food.
It nourishes and refines the skin whilst the hydrogenating base of the moisturiser absolutely pours extra moisture and fluid into your skin.
The rose is blended with Ylang-Ylang which is an oil from Madagascar. It's name means Flower of Flowers, beautiful isn't it?
Ylang -ylang oil is a superb balancer and so it regulates the sebum production keeping the oil levels at just the right levels, kissing your oily T zone away for good.
The moisturizer itself is lovely light base which just soaks into the skin effortlessly and I have to say for the first few days of using it you will find that your skin just wants to drink it up...it knows what is good for it!!



There is more about the properties of Rose Oil for your skin here...



Ensure you have chosen the right natural remedies for dry skin...Back to the order page.
Back to home.