Treating Hay Fever Is A (Summer) Breeze
Using Essential Oils.
<<
>>
When I was at school, I never had hay fever. I have vivid memories of a lad in my class and how he used to suffer at exam time. We used to sit our exams in the school gym and he would be in the line next to mine and the poor thig looked in absolute misery. His face used to be bright red, his eyes were streaming and he would be sneezing over and over, how he passed the papers I'll never know because he would be watching out the window at the industrial lawnmower cutting the playing fields the whole time. You could see it throwing all the grass cuttings in the air and churning up all the pollen, for hours upon hours.
Years later I have realised that I am allergic to rape seed and lilac and so I have quite mild hayfever, which passes quite quickly. I have a beautiful old lilac bush in the corner of the garden which Darrell keeps on going on about cutting down so I don't have to suffer the pollen any more. There's no way I'll let him though, becase the deep purple flowers are so beautiful I couldn't bear it. A bit of sneezing seems worth it to me!!
Aimée is really allergic to pollen though, and can really suffer. It's fabulous to have such an easy treatment to use and keep it at bay. It makes life so much easier when we go out on beautiful days out like this gorgeous one on my birthday in June last year to David Austin Roses.

(Isn't she lovely!! Not that I am biased!)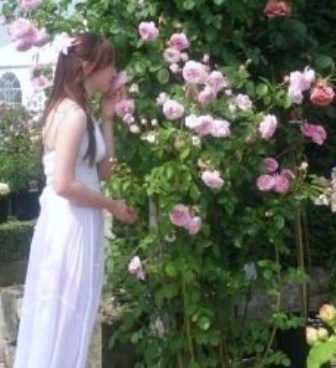 The Apothecary's hay fever Treatment is a fast working natural product...and I wouldn't be without it! Back to aromatherapy-natural-products.com home page.