Autumn - Season of The Aching Bone
No Problem!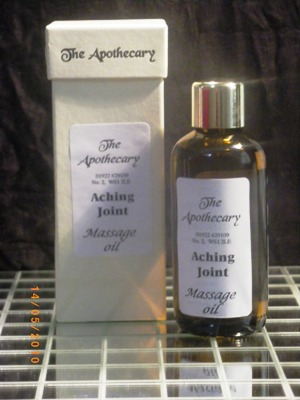 I love autumn, but it does have away of wakening the painful aching bone.
Without essential oils I think those all over body aches would really get me down, but with three children an a busy life I simply don't have time to let an aching bone worry me.
If only for the simple reason that I have to carry a certain young man around on one of my hips all of the time!
It's a special time in my life, and I can't tell you how much cherish being able to stay at home with Dexter and enjoy cooking and working from home and so I am so grateful to have my bottle of Aching Joints Masssage Oil at hand so that I can just get on with loving life and forget about my aching legs.
I really appreciate the freedom it gives me too, because autumn days truly are the most beautiful days in England
I love getting outside in a morning when all the delicious dampness makes all the garden glint like diamonds.
I can't resist working too long with a spade in the garden and messing with the borders whilst Dexy plods around the lawn.
It's such a delicious vice to just idle too long in the park with the pushchair and mums dogs, just marvelling at all the different shades of golds and reds of the trees.
But most of all I adore heaving sprawling bags of all the succulent seasonal fruit that I couldn't say no to at the market.
It all takes its toll though and when it comes to the end of the day, and as I start to unwind some evenings my body aches all over.
For many years as a child, I worked awayin my beloved ballet classes. over the years those hours of arabesques and pirouettes have certainly taken their toll. To say that I have the odd aching bone is a bit like saying there is a few grains of sand in the sahara! My poor toes hate the cold, after I cleverly managed to get one poisoned one year after the dye from a pair of wet blue suede school shoes got into a blisters that my pointe shoes had caused. My big toes aching bone begs for attention and big fluffy woolly socks as soon as the damp cooler weather starts.
I suffer very badly from aching leg syndrome too that came on very suddenly when I was carrying Aimée. It really is a horrible thing but I find that if I have a nice warm bath before I sleep and then rub in my oil gently, especially into my hips, I can sleep quite well now.
Aching legs aren't its only use though, Darrell my darling postman lover (Sounds so much more exciting than partner or boyfriend don't you think?)loves to use it on his aching back muscles after carrying his heavy bags or playing cricket too.
If you are prone to aching joints, and general all over body aches this will make life a whole different thing fo you I promise.
Let me tell you about how the oils get into that dreadful, painful, aching bone.
Lavender is a wonderful analgesic and really helps with the aches and pains.
Juniper is THE most fantastic ant-inflammatory and really rids the body of all the uric acid that has built up to cause those aches and pains.
Geranium, mums favourite oil, both anti-inflammatory and analgesic fights the pain and the source of it.
Black pepper, which I think is a vastly under-rated oil not only warms the muscles and joints but is also circulatory so generally tonic to the muscles and connective tissue around that offending aching bone. Click here...If you are worried about the side effects of using this alongside any other aching bone remedy


that the doctor has given you.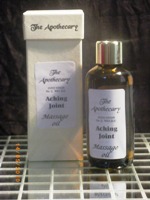 £23 + £4p&p
Call 01922 629109
To order from The Apothecary.
Other aromatherapy products by The Apothecary
Back from this aching bone and aching joints massage oil page to the home page of the aromatherapy website www.aromatherapy-natural-products.com