Treatment Cream For Rosacea
With Gardenia Oil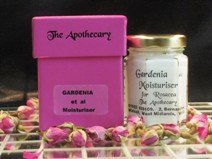 To make our treatment cream for rosacea we have drawn on ancient chinese wisdom..
They class Gardenia as what they term a cold herb, which is how they treat problems in the body pertaining to heat.
It is also a specific for releasing blood which is constricted to one place, and perhaps lies stagnant.
So when you consider that it makes the skin sensitive to touch because of the sheer ferocity of the heat that it generates, Gardenia really was the only plant worth considering if we wanted to make the best rosacea cream possible.
Of course the difference is that they would use the dried herb and we have used the Gardenia absolute essential oil, which means that not only have this fabulously benign properties, it also has that incredible Gardenia scent that is so popular.
And as a treatment it is incredible.
It's truly amzing how fast it does take the heat out of your face and very quickly the redness diminishes.
The Gardenia oil (and several others in smaller quantities) are in our moisturizer base which is lovely and light so soaks into the skin very easily and gently and hydrates and cools it without any fuss.
It's a lovely cream and to be honest, really there is no debating is there....
Choose a treatment cream for rosacea that you can trust will be cooling and gentle and will work ...
Or live with the inferno that your skin can be every day.
All you need to do now is choose which of the formulae to put into it....
I would definately recommend that you choose the one for inflamed skin so you are attacking it twofold and go from there.
Choose which others you think you need.

Order you treatment cream for rosacea here...and add your formulae.
Back to home.