At The Apothecary
We Have Been Using
Rose Oil In Our Natural Products
For Over 20 Years,
For One Very Simple Reason.
Rose Oil Is Without A Doubt
The World's Finest Skin Food.
There really is no other treatment like rose oil for dry skin. It instantly nourishes it, giving it a rich healthy plumpness. I suppose if I were to describe it I would say that your complexion takes on a more youthful dewy appearance but if I say English Rose complexion that probably helps you to visualise a little better.
Apart from the fact that it penetrates deep into the skin it is also extremely gentle to very sensitive skins and eczema. Roses are of course associated with lovers and this essential oil does indeed have aphrodisiac qualities. I think it is something about how rose oil makes you feel about yourself as a woman. Since it regulates your hormones and sexuality, rose makes you somehow more aware of yourself.
You become more vital, more sensuous, somehow.
Legend has it that Cleopatra had slaves strew rose petals across the Nile in froont of her boat as she sailed to meet Marc Anthony, just imagine having that sort of style and sex appeal!!
Personally, I found it to invaluable in "getting myself back" after having my baby, Dexter. It somehow makes you kind of distance yourself from the birth and pregnancy and helps you feel more like the old you again. Having said that, it is a uterine tonic so it tones your womb back to health so that probably helped a lot too.
It's a magnificent oil for ladies who are going through the menopause too, again because of the hormonal balance that it brings.
Moreover it calms grief and sadness, and lets them pass away smoothly and gently. I can't think of a more lovely way to try to cheer up a freind than to give her something luscious made out of rose oil to pamper herself with.
You'll find that giving gifts made from rose oil take on a whole new dimension. Toiletries made from rose make very thoughtful and kind presents. Carefully handmade from the very purest rose oil, these really are the most luxurious that you will find . It is worth pointing out here that these oils are an absolute blessing to anyone who is allergic to fragranced creams and lotions. Pure essential oils only, no synthetic fragrances.
It has a wonderful deep fragrance that is heady and romantic. If you ask either me or mum what we would like as a treat we will either say something to do with roses (and that includes Turkish Delight for me and rose fondant creams for mum) or some new shoes!
Marilyn said "Diamonds are a girls best friend!" - I'd say rose oil was a sure fire second.





Rose Toiletries, Skincare Products and Perfumes
Available by calling The Apothecary on
01922 629109
Rose Hand Lotion - 100mls £6.99
A lovely rich treat for hands which have normal to dry skin.
---
Luxury Rose Oil Bath Foam - 200mls £10.00
The perfect end to a tiring day.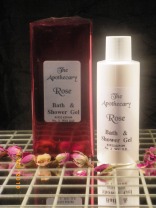 ---
Rose and Camellia Body Butter -300mls £25
A rich, luxurious body cream. Smother all over your body to remedy dry skin or simply ensure you have the very softest skin.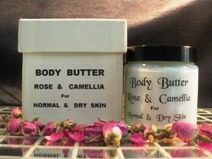 ---
Rose Absolute Talc 50grms £4.00
The most beautiful talc you will ever use. Nothing compares to it.
Made from the very finest rose oil available.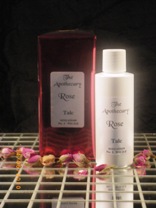 ---
Rose Cologne Soap 100grms £3.99
Made from our hand made colognes.
Containing Olive and Coconut Oils.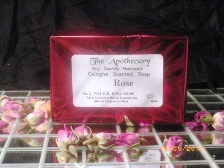 ---
Look! Buy the boxed set and save £4.98
Beautiful Boxed set containing Talc, bath and Shower Gel, Soap and Body Lotion.
Decorated with wonderfully scented dried rosebuds.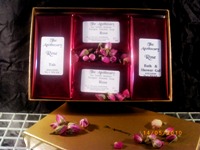 ---
Rose Absolute Cuticle Cream 15mls £7.50
A rich pot of thick cream that repairs even the most ragged of cuticles.
This cuticle cream uses the oils to nourish the new nail growing through making it stronger and less flaky.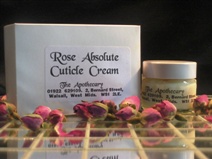 ---
Rose Gel Masque 15mls £5 55mls £20
A clear face masque which is easily washed off.
Very relaxing and incredibly moisturising.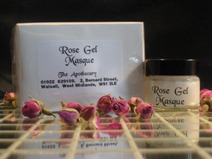 ---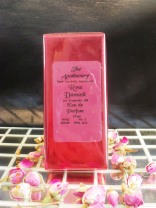 Rose Damask perfume
---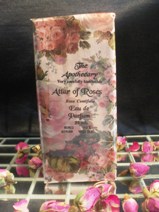 Attar of Roses Perfume.

---
Rose Absolute Massage Oil 100ml £20
Nothing needs to be said except...Heaven.
Boys...this is how to seduce in style!!
Please note that massage is not suited to everybody.
Please check this guide for safety.


Back to aromatherapy-natural-products.com home page.