Ointment For Eczema From
The Apothecary
Stops Eczema Itching Agony
And Heals Your Skin .....Fast!
Our ointment for eczema has always been one of our easiest products to sell....over and over again to patients.
As with all complementary therapies we are not allowed to claim that we can cure it but I have seen really remarkable improvements in patients when they have used our ointment for Eczema.
The ointment is a lovely thick waxy cream that acts as a blocker to the itching and stops the massive scratching urge really quickly. This is wonderful for me, but is even more fantastic if you want to treat a little one who is scratching all the time.
In my experience, the younger the sufferer the worse it is. Being around eczema in kids can be tortuous for a parent. Babies can't tell you how they are feeling and so just scream endlessly and little toddlers just can't stop themselves scratching. The soothing this treatment offers to both mum and baby is bliss.
It leaves a lovely waxy cover on the spot rather than the horrible slimy mess that you can get from some creams. To me that's a really bonus because I am so clumsy that any mess will always get on my clothes. It's really nice not to have to worry about it ruining anything.
As I have said it is wax based and totally lanolin free which I know can really make some peoples eczema a lot worse, so no worries there either, thank goodness!
The main essential oil that we use in the ointment for eczema is geranium oil which is the one that is curing eczema naturally. It is particularly good because it will really nourish the dry and flaky skin.
We also use lovely lavender and camomile to calm itching and scratching at the eczema. They will also help with the actual emotional side of the calming stress of it all too!
Most important to this treatment though is the myrrh oil that we use because it is the most incredible skin healer for weeping eczema. It will actually help to repair where the skin has been broken from all the scratching.
As with all our treatments, although they are very potent they are also incredibly gentle and the ointment for eczema is absolutely safe to use on children. It's the perfect treatment for eczema in kids.
Remember that the magic of the essential oil is its ability to absorb through the skin and into the blood stream and flush to all the points on the body that need it.
There is no need to smother your whole body in the cream, just pick a few points where the eczema is at its worst, rub on just a small amount of the ointment for eczema and the oils will work from the inside and treat the whole of your body.
Personally, I use it on the places where I am itching the most so that the wax base stops me scratching at it so fiercely. Using it this way, and I would recommend to use it three times a day, you can expect your pot to last you about three months.
The other thing that I think is a really great feature is that it is pretty waterproof. If you have a job where you have a job where you have to keep washing your hands, like a nurse or hairdresser I suppose, you will find this really helpful I should think. Rather than washing off your hands, it kind of lathers up a bit like a soap and you just rub it in. I have seen lots of really broken hands from perming solutions and just simply from all the washing for hospital hygiene. The myrrh is really helpful if you have really split and broken hands like this too.
We also make a lotion which is a much lighter base, containing the same essential oil mix, but which will absorb much easier.
In my opinion though this doesn't soothe my itching as much, it is great though if you have eczema in your hair because it will soak right through and the ointment leaves your hair looking and feeling pretty horrible to be frank!!
Just a quick bit of advice for you... I have seen our ointment for eczema really make an amazing difference to many different sufferers with one large exception.
Interestingly it seems to really aggravate the skin of eczema sufferers with red hair. In truth I have absolutely no idea why this is, and I couldn't really hazard a guess to be honest, I'm afraid. In these cases though, for many people our marigold and myrrh cream and aloe vera and calendula ointment are jsut as effective eczema natural cures. As I said, weird I know, but at least you know. Contact us if you are unsure.
Disappointingly, I am sorry to tell you that I would advise using the ointment for eczema if you are pregnant. As you know, essential oils have many main effects and myrrh could be a harmful to your baby. Other oils can be used safely after 16 weeks, so feel free to contact us about a safer alternative.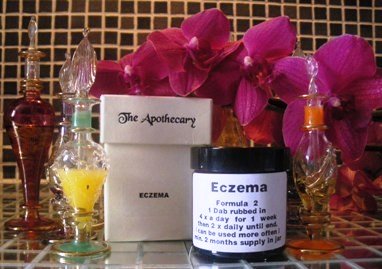 Only £9.99 Postage and packing £4.00
Worried That Your Ointment For Eczema Might Not Work?
If you have tried many eczema treatments but none of them have worked before, I can understand if you may be feeling a bit nervous about trying our cream.
As I said earlier, there are a few people that it has not helped. But, from the feedback that we receive, and the repeat orders, it's not many.
I am happy to promise you, that if you are not satisfied, and do not see some improvement in your condition, we will blend your next pot to a prescription just for you from a hair sample which will show your DNA and which oils will help you better.
In the highly unlikely event of that pot of cream not helping.... we will happily refund your money.
But I would rather hear that your skin is healing.
And one more thing...
Just remember... you don't need to worry about the side effects of aromatherapy treatments, they are all perfectly safe.
So what are you waiting for?
Order Your Ointment For Eczema Now! Just £9.99 (£4 P+P)
Call 01922 629109 to order.
The Ointment For Eczema Is Not Our Only Product...Visit our shop



---