Marigold Balm Is An
Eczema Moisturizer
Designed For The Most Sensitive Skins,
Ideal For Infantile Eczema
Or To Use As A
Facial Eczema Treatment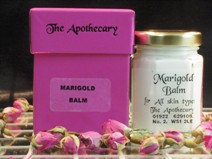 If you are looking for an eczema moisturizer or facial eczema treatment that is thinner than our ointment I would really recommend our Marigold Balm. It's good for treatment of very sensitive areas - like eczema eyelid flakiness and itching for example.
Marigold has been recommended for eczema and broken skin for generations really. We have brought together two different forms of the plant here, to really use its healing abilities to their ful potential.
The first species of marigold that we use is Calendula arvensis, or field marigold.
Calendula is in two different forms in this particular treatment. It is in the form of the absolute essential oil but there is also an infusion that is taken from the petals, so it has a large potency of its healing properties.
It also has a different strain of marigold that is known as Tagetes patula. What you and I would know as the french marigold.
Its not just using the Marigold Balm as an eczema moisturizer that I would recommend this treatment for. I'd definiteley use it for conditions where the skin is weeping or even for infantile eczemas too. It is so incredibly gentle but that doesn't stop it healing remarkably quickly.
As an aside this is also the product I have used for cracked nipples when I have been breast feeding on three little nappy-rash riddled bums!(This is where I should add the photos that I took and hid away to embarrass them at their weddings isn't it!)
It goes without saying of course that although the marigold balm blends easily into the skin without leaving a sticky residue so you can wear it as an every day eczema moisturiser. I have to say tough, it looks absolutely beautiful under make-up ladies, and really gives your skin a much smoother and less flakey surface for your foundation to adhere to.
For eyelid eczema you will see such a difference in the appearance to your eye make up too. The smoothness of the Marigold Balm means that if you use it as an eczema moisturizer to prevent the dryness you will see much less redness and the skin tends tobe much less dry and flaky. Your skin will feel so much smoother and in general I think that you will find that you make up simply feels nicer to wear.
Actually if you have quite severe eczema you could be really startled at how much better your skin looks...meaning you will feel great about yourself.
Just imagine those compliments!
It really is a remarkable little cream this one, it's not often that you find an eczema moisturizer that is so versatile.
We can also add in prescriptive skincare formulae for that you have a perfect eczema moisturizer for your skin.


Just so we are clear too...the marigld Balm is wonderful for any skins...we are not just talking about a ladies' beauty product here.
It's just as much for men or even your kids. It's an all round great healer.
Really, if you are an eczema suffer, and you want to see an improvement to your skin, reduce redness, heal all those weeping cracks and feel so much more moisturized and smooth...You need to try this cream.
£23 £4 Postage and Packing.
Contact 01922 629109 to order
Overseas shipping available.
---
Alternatively, if you would like a cheaper, and easier way to benefit from the essential oil therapy, why not try a ready mixed home treatment from the The Apothecary?