Heal The Very Worst Eczema Blister Condition
Reduce Redness And Soreness
With Aloe Vera And Calendula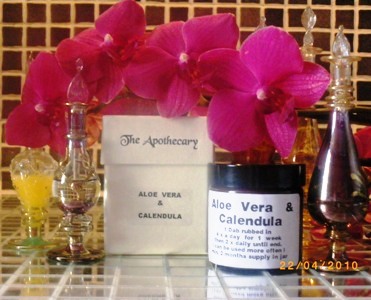 The most suppurated eczema blister,
extremly broken and cracked eczema,
eczema craquele,
and even atopic dermatitis
will find healing with this very
beneficial product.
This is a thick rich cream that is loaded with all the
This plant, that seems to be the wonder plant of the 21st century does seem to add up to it's hype too.
If you didn't read the reports about calendula on atopic dermatitis in breast cancerpatients, here they are,
here they are...... but also see how aloe vera fared too. Certainly not as well as calendula but it has caused some waves. Definitely enough to include it in this cream alongside the calendula.
Filled with vitamin C and E, it will make all the difference if you have eczema blister problems or even the most severe cases of eczema craquele.
Aloe Vera added benefits mean that
Calendula properties mentioned in the other products but with the added benefits of aloe vera. The broken skin patches will heal faster Eczema scarring is minimised The heat, burning and itching that is so upsetting is quickly cooled and soothed Redness is reduced A protective layer is formed over the patches speeding the healing The dry crazy paving cracked patches that signify eczema craquele are nourished and moisturized. This cream has the most incredible healing powers, and is your product of choice for the most broken and sore of eczema and atopic dermatitis.
£23 by calling The Apothecary
on 01922 629109
£4 postage and packing.
Overseas shipping available
---