Marigold and Myrrh Hand Cream
The Best Hand Cream For
Damaged Hands.
The Apothecary is well known for having the best hand cream on the market. We have been selling the Hand Cream with Marigold and Myrrh for over 20 years and we used to have quite a little bartering industry going on the exhibitions...all the crafts people wanted to swap peices of the art in return for getting hold of one of our pot of hand cream. These really are the best hand creams for people that really give their hands a bashing.
I always describe it as a heavy duty hand cream.
If you are a gardener this really is perfect for you because the myrrh oil helps to heal any cracks and abrasions that you have managed to get whilst weeding etc
The Marigold is antiseptic and so it not only keep any wounds free from infection but it also softens and smooths your skin too.
Incidentally the Marigold and Myrrh Hand Cream is great if you are an embroiderer like me too. It refines the skin, stopping it from snagging on fine fabrics whilst you are working.
I'd also recommend that these too if you are prone to eczema as the marigold is particularly good for the skin .
Its a really thick waxy oil that really leaves a lovely silky barrier film over the skin allowing the oils to be protected whilst doin their work.
That's said it is not greasy in any way at all and I love to use it when I am working out in the garden because each time you wash your hands or get them wet, because it it a wax based barrier it just lathers up a little bit and you just rub it back in.
It is very fast working, softening your hands instantly, and since the oils absorb through the skin and into the blood stream they start healing the skin after the very first application.
Order Today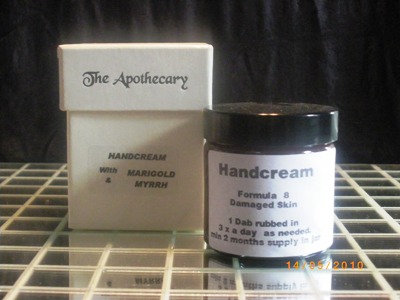 £23 + £4
Postage and Packaging.
We are happy to ship overseas.
If you are looking for a luxury hand cream instead then the best hand cream would be the English Rose Hand Cream.
---
Special offer Marigold and Myrrh Hand Cream just £15
Limited period only.