Wear Your Aromatherapy Perfume with Confidence.

Life is Just About To Get A Whole Lot More Interesting!
Aromatherapy perfume is quite magical thing.
It combines the captivating fragrances of some of the more sought after and prized plants from the entire planet. Well chosen essential oils are blended into aromatherapy perfumes in ways that alter your mindset and your consciousness.
It releases inhibitions.
It will unveil that part of you that you want to show.
It gives you the confidence to fullfill the dream that you dared to dream.
Choose carefully....this is a treasured investment.
For current special offers and prices - please call The Apothecary on 01922 629109
If you need anymore information about the fragrance families- click here.



Florals (Aldehylic)
If you are looking for an aromatherapy perfume of just one flower - Click here for our single note perfumes.
Floral perfumes contain aldehydes, which are the heady, sweet chemical components of flowers.
These blends can evoke the same emotions as the flowers themselves and can be worn either day or night.
Sunset Boulevard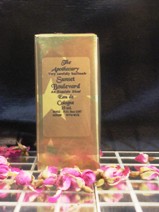 Woody/fruity floral
This exuberant blend of ylang ylang, Rose and lilac epitomises the razzle dazzle of hollywoods famous street.
Prepare to sparkle with your stunning smile and effervescent personality.
This perfume Will Get You Noticed!!
---
Enchanted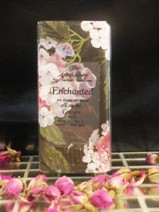 Green floral
Be bewitched by the heart of Lily Of The Valley, the magic of Sandalwood and the seduction of Eve's Apple.
Carry an enigmatic aura. Be temptation.
People will want to discover you.
---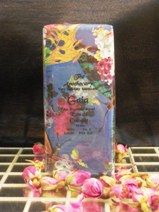 Gaia
Aldehylic Floral
Be glad to be alive and wear the sumptuous scent of jonquil blended with vanilla.
An eternal aromatherapy perfume that says "woman".
Full of feminine promise, this pretty perfume says pretty and flirty.
---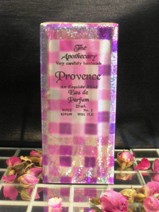 Provence
Green Floral Aromatherapy Perfume
Hyacinth joins soft green notes and a hint of spice, that conjures up mirages of herb covered hillsides on sunny days.
It promises halcyon afternoons lying in the sunshine, languid and blissfull.
Paint a fragrant, lush future.
---
Chypres
Chypres are heavier perfumes which have deep base notes, usually of oaknoiss and patchouli.
They tend to last longer than any other types and are mainly worn in the evening.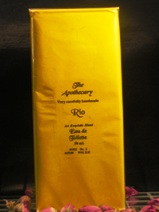 Rio
Fruit Chypre


Patchouli and Labdanum linger as peach and tuberose assail the senses.
A lusciously dark and warm scented aromatherapy perfume.
As the name of this wonderful city suggests, this perfume is a blend of the South American sensuality, verve and vitality.
Be transported to the throbbing and pulsating atmosphere of the carnival. Sultry, sexy and fantastic fun.
---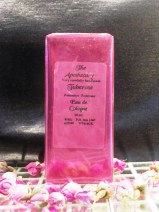 Talisman
Citrus Fougere Perfume.
This sumptuous fragrance is warm and sensual, suggestive of ripe fruit with a top note of orange blossom and heart of vetivert.
Deliciously female.
A note of caution though, ripe fruit is juicy, soft and fertile....
Being around this aromatherapy perfume could make someone's mouth water!
---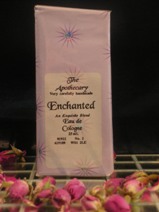 Emerald
Green Fougere Perfume
Innovative, vivacious, full of energy.
This green floral scent begins as a melon and citrus fragrance and then mingles with hyacinth and violet.
Like its namesake it is precious intense and sought after.
---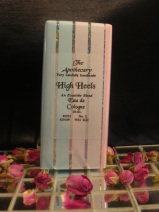 High Heels
Floral Fougere Perfume


A heart of nectarine and Amyris fuels clear thought and positive action.
A perfume for the modern sophisticate who knows where she is going and how to get there.
Wear this aromatherapy perfume in the boardroom and let people know that you are THE woman who can make things happen for them.
They will sit just a litte straighter when you are around!
Dynamic.
And yet... unmistakably feminine.
---
Orientals



Oriental perfumes are made with the exotic, heady flowers and spices of the east. There are many differenty blends and
depending on the heaviness can be worn either day or night.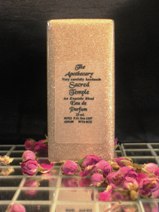 Sacred Temple
Spice oriental
This perfume echoes the ancient origins of perfume as temple incence. It produces a mysterious, timeless feeling that
affects the crown chakra and your spirituality. Myrrh and amber root it in the passt, with jasmin and coriander rasing the
senses to other levels.
Take things to a new dimension.
---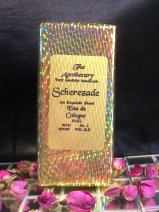 Scherezade
A sublime blend of rose , jasmin and eastern fruits which evoke eastern gardens at midnight as the Princess Scheherezade spun
her stories.
Learn from the princess that captivated a king, mind and soul, for a 1001 days and nights.
Mesmerise.
Become totally bequiling.
---
If you are looking for an aromatherapy perfume of just one flower - visit here for our single notes.

For toiletries that match your aromatherapy products, visit the store...

Did you know that The Apothecary is an amazing reputation for healing medical complaints? See some of our treatments

Back to www.aromatherapy-natural-products.com home page